• 5 Year Anniversary • Personalised Gifts • The Vintage Bubble • The Wrong End of Town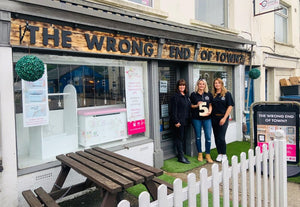 Wow - we've celebrated our 5th Birthday and we're stronger than ever! When Covid hit, I was really nervous about closing the shop to the public. At that point sales were pretty much 50/50 between online and instore sales, so to suddenly have to rely on online sales only was a bit of a shock to the system! But even by May 2020, the business was starting to thrive online and thankfully we saw an increase in sales. Plus there were still orders coming in from our local, very supportive customers via Facebook, phone and email. The boost in online...
---
• dover • Dover Kent • dover shopping • gift shop dover • kent shopping • personalised gift dover • the wrong end of town
I'm so excited! I really can't believe that I am celebrating The Vintage Bubble's 2nd birthday at my shop The Wrong End of Town! And you can even celebrate with me as I've brewed my very own anniversary beer and guess what it's called....'The Wrong End of Town!'. What an achievement! They say that the first 18 months of a new business are the toughest and it hasn't been an easy journey, but I've made it to 2 years! So a massive thank you for all your support and love for my products, as well as letting me get my...